Welcome
Hello A–GAIN! Have you already revalued your clothes today?

The A–GAIN GUIDE shows you new ways to repurpose your used clothing.

Use the MAP to find repair shops, second hand stores, upcycling workshops & designers, as well as clothing containers in Berlin!
Map
Hit the road with our MAP and visit #textilretter - textile rescuers - close by.
Guide
Our Guide helps you to find the perfect solution for your used clothes.
Facts
Wrap UK Extending the life of clothing by an average of 9 months would already reduce the CO2, water and waste impact of textiles by 20-30%.

British charity Barnado's, 2015 Each item of clothing is only worn about seven times.

Statistisches Bundesamt In Germany, we buy more clothes than we actually need, while the amount consumers spend on clothes is decreasing.

Greenpeace 'Wegwerfware Kleidung', 2015 On average, we wear only 60% of the clothes we own.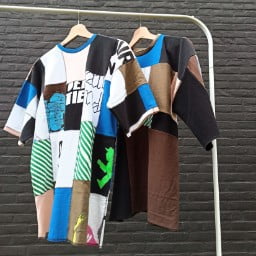 Contact
You are our Berlin Insider! We look forward to your messages and suggestions for local #textilretter - textile rescuers.
#textilretter
Join us and list your service on our platform!
About
Find out more about the A-GAIN GUIDE
Newsletter
Stay up to date!